Homeowners and commercial property owners often ask, should I seal pool deck pavers? This is a vital question for a few reasons! First, sealing helps preserve their longevity and keeps pavers looking their best. Second, despite those benefits, you don't want to invest in unnecessary services around your property!
Advantages of sealing pool deck pavers include:
Sealing adds a protective layer over paver pores, reducing cracks and stains.
Sealant helps keep pavers in place.
Weeds don't grow through sealant as easily as gaps without sealing!
Regular sealing keeps pavers looking their best.
These are just a few reasons that property owners should consider regular pool deck paver sealing. To find out more about this process, keep reading! Some added information ensures you make the best choice for your home or commercial property. In turn, those pavers will look their best and last as long as possible.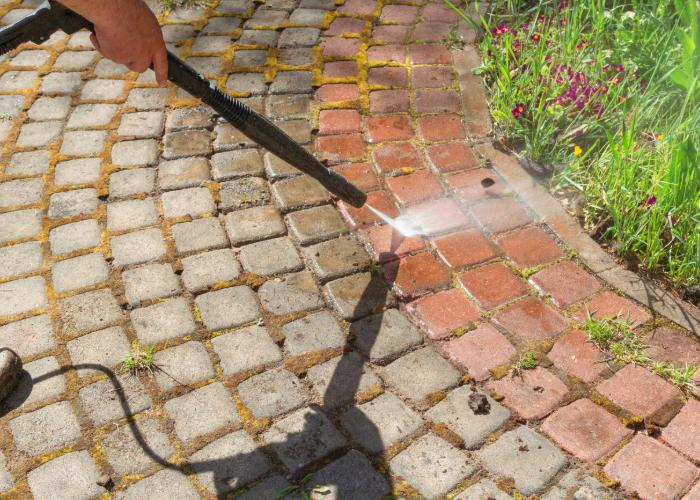 Should I Seal Pool Deck Pavers? Yes!
If you're still asking, should I seal pool deck pavers, check out its benefits in greater detail. Also, don't hesitate to call a power washing contractor near you with added questions. They can offer specific advice about your property's condition overall.
What is pool deck paver sealing?
To know if you should seal pool deck pavers, it's helpful to understand the process better! Simply put, a sealant is a thin layer of material applied with a paint roller. This material seeps into pits and pores of brick, concrete, pavers, and other materials.
Next, the sealant dries and hardens slightly. However, it's so thin that you don't typically notice it even up close. This sealant then offers protection for those materials, keeping out water, stains, and more. Additionally, sealant helps keep colors true and bright, preventing premature fading.
Why seal pool deck pavers?
Check out all the benefits of sealing pool deck pavers in greater detail. This information can hopefully help you see its advantages for your property!
Sealant layers block food debris, pet waste, and other materials from seeping into pavers. In turn, this process helps avoid permanent stains.
That protective layer keeps dirt and other debris from getting ground into paver pits and pores. As a result, regular sealing makes cleaning easier overall.
Dust and other gritty debris can etch and otherwise damage pavers. Sealant helps repel these materials, avoiding that risk.
Harsh sunlight, high winds, and heavy rains also damage paver materials. Regular sealing protects them, much like using an umbrella protects you against outside weather conditions.
Airborne chlorine residues also dry out pool deck pavers! In turn, its application is especially vital around pools.
A sealant protects against paver color fading over the years. Also, it can help restore dull pavers to their original color. Consequently, those pavers will look their best when you invest in sealing.
Sealant seeps into spaces between pavers and then dries and hardens. Consequently, those pavers are less likely to move out of position. Additionally, you might see fewer weeds growing between them!
Choosing the Best Pool Deck Paver Sealing Material
First, note that pavers offer non-glossy and high-gloss finishes. Second, note that glossy finishes are often slicker than non-glossy! In turn, you might avoid glossy finishes around pool decks. Those finishes can increase slipping hazards.
Also, some sealers allow you to add materials that increase traction. This is an excellent choice for pool decks and walkways. That added traction can mean fewer slip-and-fall accidents around your pool.
Lastly, remember to choose a sealant for your pool deck materials. Concrete sealants aren't the same as those used for pavers, for example. The right sealants provide a watertight finish for your outdoor decks to ensure it looks good for years to come.
How Often Should You Seal Pool Decks?
Most homeowners find that sealing their pool decks every three years offers sufficient protection against damage. On the other hand, commercial properties might need more frequent sealing! High traffic, harsh cleaning tools and techniques, and other factors can damage those pavers easily.
Also, note that sunlight and rough weather also wreak havoc on pool pavers. In turn, properties in the tropics might need more frequent sealing than others. Lastly, note if your property lacks adequate shade around the pool. If so, consider annual paver sealing.
Can I Seal My Own Pool Deck Pavers?
Homeowners might consider leaving pool deck paver sealing to a professional! First, those pavers need proper cleaning before sealing. Second, this job often takes longer than you might realize.
Also, note that improper pressure washing techniques often damage pavers, even cracking or dislodging them. On the other hand, professional soft wash cleaning ensures safe, damage-free cleaning. A professional also knows when to get out the scrub brushes and tackle tough stains!
Lastly, consider that a professional knows the right materials to use for your paver materials. They ensure a proper application as well. Consequently, their services provide an excellent clean, and stunning surface for as long as possible.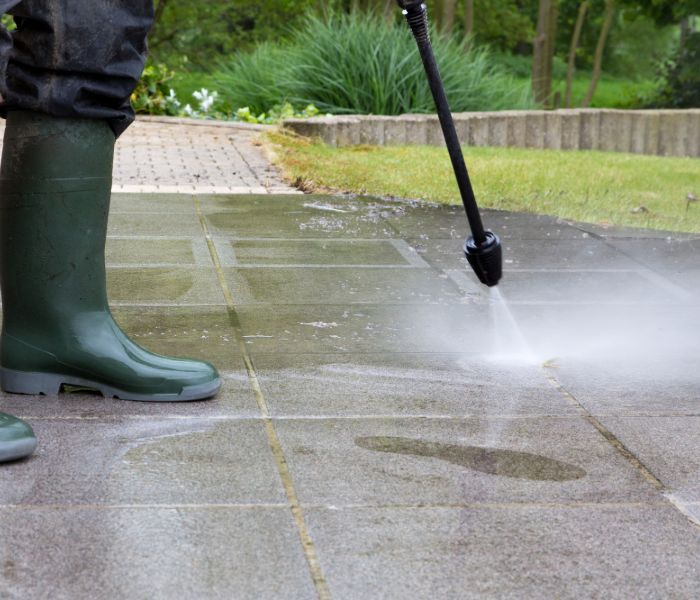 Does Sealing Pavers Make Them Waterproof?
Paver sealing doesn't necessarily make those materials waterproof completely. However, sealing protects against water damage, blocking it from seeping into those materials. Also, sealant repels rainwater, melting snow and ice, and the like.
Additionally, sealant protects against minor cracks and other damage. These cracks let water seep into paver materials. By preventing cracks, you'll see less water damage to your pavers over the years.
FAQ
What are the cons of paver sealing?
While pool deck paver sealing is a great choice for properties, it's not without some cons! One consideration is that it's not always a cheap investment. Two, sealants can damage surrounding landscaping and your lawn. However, you reduce this damage risk by investing in professional services!
Also, remember that sealing your pavers isn't permanent. You'll need to keep the pavers clean and maintained over the years, even with sealant. Additionally, sealants do wear off in time, so be prepared to invest in this service every few years.
Does sealing pavers keep the sand in?
Adding sand between pavers helps stabilize them and block weed growth. Also, this creates a more polished look for those pavers. Sealing the pavers helps keep that sand in place and provides added protection against weeds. In turn, it's good to consider fresh sealant after replacing paver sand.
Are pavers slippery after sealing?
High-gloss sealant is often more slippery than non-gloss sealants. Also, applying sealant too thick can create a slicker surface. If you're worried about slipping on your pavers, talk to your contractor about the best product for your property.
A Word From Our Power Washing Team
ProClean Pressure Washing Venice is happy to help answer the question, should I seal pool deck pavers. Hopefully we've given you a lot to think about! You can also call our Venice FL pressure washing contractors when you're ready for expert services. We provide FREE quotes and guarantee all our power washing and pool deck sealing. For more information, reach out today.