Your residential power washing costs are an investment in your home's appearance as well as its overall condition! Professional pressure washing offers many advantages beyond a clean home, and this work is not something to put off indefinitely and not something a homeowner should tackle on their own.
Residential power washing costs might average around $150 to $200 for basic exterior house washing, while services like gutter cleaning might be charged by the hour, depending on the level of dirt and gunk needing removal. Driveway pressure washing, pool deck cleaning, roof washing, and fence pressure washing might be charged by the square foot, while window washing is often quoted per window.
No matter the power washing costs quoted by a contractor near you, it's good to consider this work as often as needed. If you've been putting of residential pressure washing or are thinking of trying to manage it yourself, you might note some vital information about why this service is so necessary and why it's good to call the pros.
As a homeowner, you might also note some indications that it's time to schedule residential pressure washing! You can then be sure that you're keeping your home clean and pristine and in good condition, and are not neglecting any needed maintenance including gutter cleaning, roof washing, and the like.
Why Invest in Residential Pressure Washing Costs?
The appearance of your home is reason enough to consider investing in residential pressure washing costs! A homeowner should feel proud of their property every time they pull into the driveway or have friends over for a backyard barbecue. However, there are many reasons to consider regular residential pressure washing beyond a clean appearance; consider a few of those reasons here and discuss them with a power washing contractor near you as needed.
Dirt and mud are not just unsightly but also hold moisture against a home, increasing the risk of softening brick and other materials. Moisture also seeps into a home through small cracks and holes in brick, siding, and other exterior structures, leading to interior wood rot and mold growth.
If you don't have a bagged mower and tend to leave grass clippings clinging to the side of your home after every lawn cutting, note that those clippings also contain lots of moisture as well as fertilizers, lawn care chemicals, and damaging debris. In some cases, grass clippings might even discolor exterior brick and siding.
Soot and air pollution residues tend to dry out asphalt shingles, making them brittle and prone to cracking and splitting. Bird droppings are also very caustic, as are twigs, pebbles, and storm residues, also damaging and even loosening roofing tiles.
Thick soot and other residues also cover up areas of needed roof repairs. A homeowner might easily overlook soft spots, torn shingles, and bent flashing when a roof is covered with layers of soot, moss, and other debris.
Mold clinging to a home's exterior often creates a very unpleasant odor and also affects outdoor air quality. Mold is especially bothersome for anyone with breathing disorders and similar sensitivities.
Gutters are not installed along a home's roof eaves for decoration! Their entire purpose is to direct rainwater and other debris to nearby downspouts so that everything washes away from a home's exterior walls and foundation. Clogged gutters allow rainwater to wash over their sides and then along those outside walls, eventually collecting next to the foundation.
Dirt, dried dust, and other debris might etch and scratch windows, weakening exterior glass and allowing even more dirt and dust to get trapped in those scratches! Clean windows also allow more light into a home's interior, creating a brighter, more welcoming environment.
Power washing removes insect nests, keeping those bothersome pests away from you and your family when you're outdoors! Residential pressure washing might also remove termite tunnels, reducing the risk of interior termite damage.
Can You DIY Residential Power Washing?
Many homeowners try to avoid residential power washing costs by either renting or outright buying pressure washing equipment and managing this work on their own. While you might see some results from do-it-yourself power washing, there are many reasons to leave this work to the professionals.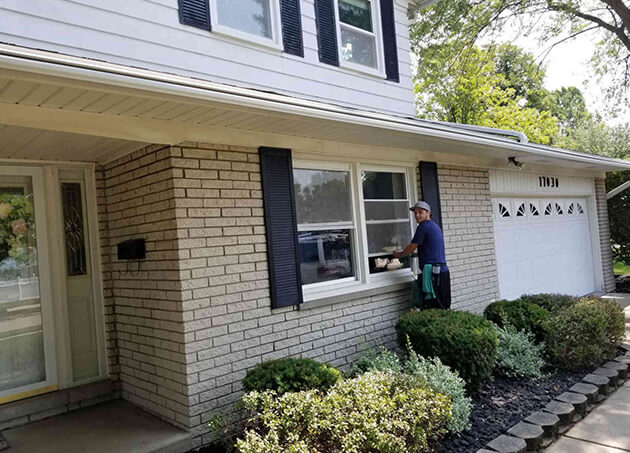 There are actually proper power washing methods that help remove as much dirt and grime as possible without damaging exterior surfaces, but which a homeowner might overlook. For example, most pressure washing is done from the bottom up, as this helps loosen residues clinging to exterior walls. If you were to wash your house from the top down, you might notice leftover streaks of dirt and grime.
Controlling the spray and water flow during power washing is also typically more difficult than homeowners realize! It's not unusual for inexperienced homeowners to wash one area of their home or property only to notice unsightly splatter along another area, or to find that their lawn is now flooded with dirty, soapy water.
A home's exterior often has lots of "hidden" areas of dirt that are easy to overlook. For instance, a homeowner might neglect cleaning underneath corners of roof eaves, inside downspouts, outside gutters, and around fixtures such as mailboxes and exterior lights.
Different surfaces and materials require different power washing techniques and detergents. For example, improper pressure washing methods and harsh detergents dry out and etch wood decks and fences, while added scrubbing might be required to remove sand, silt, and other debris from concrete and stone.
Weather and even the time of day you choose for washing can affect your results! Hot sunlight might dry detergents before you can rinse them completely, leaving behind unsightly streaks and other marks. Rain and humidity might also wash away detergents before you can clean your property thoroughly.
Note that a power washing contractor near you understands the best pressure washing methods and will use the right equipment, techniques, and detergents for every surface of your home and property. He or she ensures a thorough clean without damage or the risk of unsightly streaks, marks, and other residues left behind.
How Often Does a Home Need Residential Power Washing?
In some cases, it's obvious that it's time to invest in residential power washing costs! If you've neglected this work for many years, you might notice thick dirt and mud clinging to your home's exterior or see mold growing along the roof eaves and elsewhere. In those cases, it's time to call a power washing contractor near you.
There are other indications that your home needs pressure washing and especially along certain areas or surfaces. For instance, if you notice water stains along exterior walls, rainwater might be washing over the sides of clogged gutters. A thorough gutter cleaning removes those clogs and protects your home's exterior walls and foundation from the risk of water damage.
It's also recommended that you consider power washing at the end of every summer or autumn season if you don't have a bagged lawnmower, as said, or if you often cook outdoors. Barbecues and grills create lots of airborne soot, smoke, ash, and food debris, all of which tend to cling to a home's outside walls and windows! A thorough pressure washing at the end of the season ensures a clean and pristine exterior and less risk of damage to your home and property.
Homes located near airports, marinas, and busy roadways also need residential power washing more often than others; engine soot settles onto roofs and exterior walls of nearby houses, leading to damage and unsightly streaks. The same is true for sand, silt, and other debris found in coastal areas! If you live near the beach, you might even notice sandy debris covering your home. Residential power washing removes all that grit and grime.
You also might not think of cleaning your home's exterior if you're planning on selling the house, but consider that potential homebuyers might assume a dirty exterior means a dirty and neglected interior! Mold, mud, insect nests, and other residues might also turn off a buyer looking for a beautiful outdoor space, perfect for relaxing and entertaining. Residential power washing costs are a worthwhile investment when selling your home, making it more presentable and desirable to potential buyers.
Related Questions
Are power washing and pressure washing the same thing?
Pressure washing refers to washing a property with increased water pressure. Power washing uses hot water rather than tepid or room temperature water. Hot water helps dissolve grease, oil, and other such residues, but might be overly harsh for wood surfaces and glass and unnecessary for cleaning exterior walls, concrete, and other such materials.
How do you choose a reliable power washing contractor?
Not all power washing contractors are alike! Someone might buy pressure washing equipment and start a power washing business with little to no experience in the industry. To ensure you find the best pressure washing contractor near you, note how long they've been in business and if they want to perform a full inspection before quoting you a power washing cost.
Roof cleaning in Venice is especially vital, as airborne sand, silt, and other gritty debris commonly settle onto Florida homes. Grit and grime damage shingles, tiles, flashing, and other such materials. Excess humidity also leads to mold, mildew, moss, and algae, all of which are damaging to the roof and unhealthy for anyone sitting outside the house!
As no two homes are alike when it comes to levels of dirt and grime on the roof, only a power washing company in Venice can offer a specific quote for your home. However, you might note some vital information about what's typically involved with roof washing and other pressure washing services, and why this work is so beneficial for your home! You can then discuss your options with a pressure washing company in Venice, FL, as needed and ensure you're keeping your home clean and pristine and in good repair!
What's Included in Roof Cleaning in Venice FL Costs?
Roof cleaning in Venice means more than just hosing down a home's roof! Soft wash cleaning, recommended for Florida homes for a gentle yet effective clean, begins with a specialty surfactant or detergent. This cleanser seeps into all the nooks and crannies of a roof, dissolving even the thickest dirt, soot, air pollution residues, sand, silt, and other residues.
Soft wash roof cleaning in Venice also washes away bird droppings and storm residues, leaving behind a clean roof while also exposing areas of needed repairs. A power washing contractor might also scrub away soot and grime clinging to a chimney stack, vents, and other roofing features. Grit and grime is then rinsed away with low pressure, minimizing risk of damage and loosened shingles.
Why Your Home Needs Venice Roof Cleaning
It's easy for a homeowner to overlook the need for Venice roof cleaning, often concentrating on cleaning a home's interior surfaces and perhaps the outside deck or other more noticeable surfaces. However, there are many benefits to regular Venice roof cleaning, including a longer roof lifespan!
While a clean and pristine home exterior is reason enough to schedule regular roof cleaning in Venice, consider that soot, air pollution residues, and other debris dry out shingles, making them brittle and more likely to split and crumble away. Fallen leaves, acorns, Spanish moss, and storm debris wedge themselves between shingles and other materials, loosening them and increasing the risk of losing those shingles altogether.
Homes in high humidity areas might also be prone to mold, mildew, moss, and algae growth. These residues also spread in and around shingles, loosening them; algae even literally eats away at asphalt shingles! Mold is also especially unhealthy and unpleasant for anyone sitting outside the home. A thorough roof washing in Venice removes those damaging elements, for a clean home and improved air quality.
How Often Does a House Need Roof Washing in Venice?
Most homes benefit from power washing services at least every other year, to remove layers of dirt, grime, soot, and other residues. However, note that homes in Florida are especially prone to layers of sand and silt, as said, and especially homes located closer to the coast, a marina, or highway. While it's never recommended that a homeowner get on a ladder to inspect their home's roof, you might note if there are layers of sand and silt or other residues on outside walls. If so, there's a good chance the roof is also covered with all that debris!
Florida's stormy summer season also might mean more storm debris on your home's roof than houses in other areas of the country. A thorough pressure washing service in Venice after storms have moved through removes fallen twigs and leaves as well as other debris, leaving behind a clean and pristine roof.
Is It Dangerous to Power Wash a Roof in Venice?
You might have heard that it's dangerous or somehow damaging to power wash a roof in Venice, and certainly a homeowner inexperienced with proper pressure washing techniques might literally blow shingles right off their house! Improper techniques also tend to strip granules from shingle surfaces, increasing the risk of standing water on the house and split or torn shingles.
While a homeowner might avoid DIY power washing for those reasons, professional roof washing in Venice is not only safe but also an excellent way to protect a roof and extend its lifespan. A professional power washing company in Venice, especially one that offers soft wash pressure washing, ensures a gentle yet effective clean.
Soft wash roof cleaning of a Venice home also exposes areas of needed repairs; you might more readily see torn shingles or flashing, missing shingles, water stains, soft spots, and even sagging areas after a thorough power washing. Timely roof repairs after that soft wash cleaning extends the overall life of a roof and ensures proper interior insulation and structural support for your home as well.
Why Choose Gutter Cleaning With Roof Washing in Venice?
When you call a power washing company, they might suggest gutter cleaning a Venice home along with roof washing. This is not simply to get you to pay for added services, as a dirty roof often indicates that a home's gutters are just as covered with dirt and debris. Clogged gutters allow rainwater to wash over their sides, leading to water damage along exterior walls and a home's foundation.
Clogs also result in standing rainwater in the gutters; roofing shingles and other materials then absorb this water, becoming soft and crumbly. Standing rainwater also attracts bothersome insects and encourages mold growth along a home's exterior. You might even notice long, muddy streaks outside a gutter when it's clogged, detracting from your home's overall appearance.
Chances are, gutter cleaning is not your favorite chore or way to spend the weekend! It's also somewhat dangerous for a homeowner to be on a ladder, trying to manage pressure washing equipment or even a garden hose.
To keep yourself safe on the ground and ensure a thorough gutter cleaning, ask about including this work in your roof cleaning in Venice costs. Your power washing contractor might offer a price break or, at the very least, you'll know your home will be clean and pristine and in good condition when you schedule both gutter cleaning and roof washing services together!